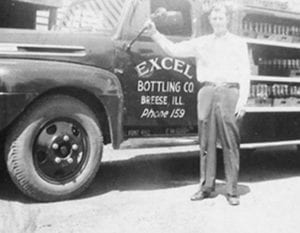 History
In 1936, Edward "Lefty" Meier received reward money for catching a bank robber and used it to purchase a used bottling machine. He and his wife Catherine Bruegge Meier set up the bottling plant in Catherine's grandmother's house where she previously operated a general store. Today the house has expanded into a modern soda bottling and craft brewery plant.  Edward passed away in 1996, but his wife Catherine continued to live in the house and do the bookwork until age 97. She passed away in 2009 at age 99. Excel remains one of the few independent family bottlers in the nation and is the only returnable bottling line remaining in Illinois. Although distribution has spread throughout southern Illinois and into the greater St. Louis area, people still pick and return their Ski soda at the Breese plant. As Catherine once said, "Eddie and I built our business one case of soda at a time." Her spirit lives on now through the third generation at Excel Bottling.
Soda
Excel bottling produces a variety of flavored sodas using cane sugar, returnable bottles, and vintage bottling equipment. Their most popular soft drink, Ski, was added in 1961. You'll find the complete lineup of sodas at excelbottling.com/soda or click here to purchase online.
Besides bottled soda, Excel offers a great lineup of fountain drinks available through a variety of restaurants. The syrups for both bottled and soda fountain concentrates are selected from different extract houses to provide us with the best flavors in the market. We blend and mix flavors in our own unique way. What's more, for our non-diet drinks, we use only 100% pure cane sugar for our sweetener. And the tartness of our flavored drinks comes from fruit acids such as citric and malic. These flavors are also protected with benzoate of soda. For carbonation, we use a dual filter system which removes any sediment and chlorination from the municipal water supply. Each flavor requires a different level of carbonation: soda is carbonated with CO2 dissolved in water, which provides some additional tartness. The Dixie Filler has both a syrup and capper located along with a dial. After the precise amount of syrup is added to the bottle, it is filled with carbonated water and then capped.
Craft Beer
Bill Meier, the grandson of founders Ed and Catherine Meier, and now President of the company, was always a huge fan of craft beers. As a result of new distribution laws in Illinois that allowed craft breweries to self-distribute, Bill established the Excel Brewing Company in 2012. Bill invested in the latest brewing equipment, products, and people to begin producing Excel beers. You'll find hoppy, West Coast style, and traditional German-style lagers on the Excel craft beer line. For a complete list of craft beer visit excelbottling.com/beer or click here to purchase online.
WATCH A BRIEF
DOCUMENTARY ABOUT
Excel Bottling Company